Entrega No 28.
Punk-rock conTsunami Bomb!!!!.
Esta entrega es un disco de una de las bandas "promesa" de la escena Punk-Rock norteamericana. Tsunami Bomb es su nombre, composiciones con mucha energía y una buena ejecución de los instrumentos, añadiendo a todo este sonido, la voz de su fémina vocalista que se hace llamar M; esta banda poco ha poco ha logrado que su propuesta sea escuchada por cada vez más personas, ya que ha sido parte del cartel de la gira "Vans Warped Tour" (donde alternan con bandas como Bad Religion,AFI,Face to Face,Less Than Jake, etc , etc) por varias ciudades de EU, apareciendo en los discos recopilatorios que año con año salen de esta gira.
Tras haber grabado en EP, The Ultimate Escape es su primera producción oficial.
Tsunami Bomb / The Ultimate Escape (2002 Kung Fu Records).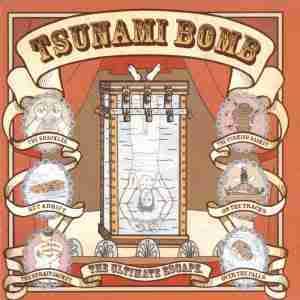 Tracklist.
1. Take The Reins
2. Russian Roulette
3. Say It If You Mean It
4. Roundabout
5. Top 40 Hit
6. 20 Going On...
7. The Simple Truth
8. Headlights On A Hand Grenade
9. Count Me Out
10. El Diablo
11. In This Together
12. Swimming Through Molasses
Escúchalo.
http://www.rogepost.com/n/6316602435