Entrega No 21.
El sonido demoledor de Ministry!!.
Comenzando el mes de Diciembre con una de las bandas que más disfruto escuchar por el poder de su sonido!............No!, no son villancicos ni canciones de Navidad!!.

Se trata de Ministry, banda estadounidense catalogada como pionera del género "Metal Industrial", no se que tanto valga el termino, pero el sonido es bastante "taladrante" y distorsionado (a mi gusto de las mejores guitarras distorsionadas), acompañado de sonidos de sintetizadores, sonidos de herramientas y cualquier efecto ruidoso enmarcando la voz desgarradora de Al Jourguensen
líder y fundador de la banda. Una temática cruda, actitud agresiva y de protesta que reflejan en su música, es en resumen, la esencia de los legendarios Ministry.
El album es un recopilatorio de lo más representativo de lo que fue la primera etapa de la banda, titulado Greates Fits, del año 2001 para el sello Warner. Creo que fué una muy buena selección de temas, aunque a lo largo de su discografía hay muchas canciones muy buenas!!.
Ministry / Greatest Fits (2001 Warner Bros Records ).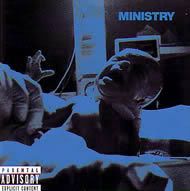 Tracklist.
1. What About Us?
2. Stigmata
3. The Land Of Rape And Honey
4. Thieves
5. So What (Live)
6. N.W.O.
7. Just One Fix
8. Jesus Built My Hotrod
9. Reload 12"
10. Lay Lady Lay
11. Supermanic Soul
12. Bad Blood
13. Supernaut
Escúchalo!.

http://z04.zupload.com/download.php?file=getfile&filepath=12752