Entrega No 25.
El Ska/Punk de Los KFM!!!!.
Esta vez va una banda de Tijuana, BC México que ejecuta un Ska-Punk con un sonido bastante aceptable. Se hacen llamar Los Kung-Fu Monkeys y son una muy buena propuesta de la escena ska-punk nacional.
Esta es su segunda producción titulada "End Transmission" grabada en el 2003.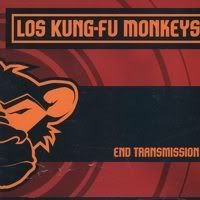 Tracklist.
1. Swore No More
2. Para Los Que Ya No Estan
3. The Gates
4. Short Fuse
5. Turn Back
6. Common Chord
7. Neglect
8. Blue
9. Who Decides?
10. My Nightmare
11. Live In The Present
12. Say Goodbye
Escúchalo!.
http://z02.zupload.com/download.php?file=getfile&filepath=16444