Entrega No163
Va algo más......
De esta trepidante agrupación Californiana de Punk Hardcore cuyo nombre es extraído de la novela de Stephen King "Eso", se trata de
Pennywise
. Esta poderosa banda con su sonido de gran velocidad y bastante bien ejecutado.
Este es su sexto album "Land Of The Free", disco editado en 2001 por el sello Epitaph, un muy buen disco con 14 tracks bastate bien logrados.
Pennywise / Land Of The Free ( 2001 Epitaph)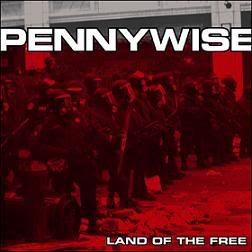 Tracklist.
1. Time Marches On
2. Land Of The Free?
3. The World
4. F**k Authority
5. Something Wrong With Me
6. Enemy
7. My God
8. Twist Of Fate
9. Who's On Your Side
10. It's Up To You
11. Set Me Free
12. Divine Intervention
13. WTO
14. Anyone