Entrega No 177.
Más de Punk Rock.........
Pero esta vez se trata de ese legendario sonido Punk Inglés de los 80´s, y corre a cargo de esta buena banda de Ipswich ellos son
The Adicts
, agrupación que aparece de nueva cuenta en este Siniestro sitio, esta vez es su album debut "Songs Of Praise" editado en 1981 (4 años despues de la firmación de grupo).
Un gran disco!, con muy buenos temas entre los que destaca el clásico Viva La Revolución "canción de batalla" de este conjunto. Punk sencillo y sin complicación (musicalmente hablando) pero lleno de energía y calidad.
The Adicts / Songs Of Praise ( 1981 SOS Records).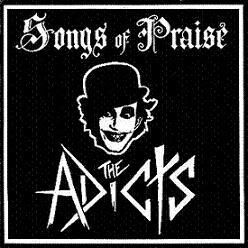 Tracklist.
1. England
2. Hurt
3. Just Like Me
4. Tango
5. Telepathic People
6. Mary Whitehouse
7. Distortion
8. Get Adicted
9. Viva la Revolution
10. Calling Calling
11. In the Background
12. Dynasty
13. Peculiar Music
14. Numbers
15. Sensitive
16. Songs of Praise
17. Sound of Music [*]
18. Who Split My Beer? [*]