Entrega No 169
De Surf Instro Clásico!!!.
Hay más de este estílo donde las guitarras hacen su armonioso dialogo. Y esta vez es con algo de
The Ventures
, una agrupación Norteamericana formanda en 1958 por un par de músicos avecindados en Seattle, Don Wilson y Bob Boogle unen su habilidad para ejecutar las seis cuerdas y comienzan una aventura musical que ha alcanzado gran dimensión, con su estílo plenamente instrumental que se conviertió en toda una institución del género Surf, con una extensa discografía que comprende desde 1960 hasta el 2005!, cualquier cantidad de reediciones y albums recopilatorios yuna trayectoria que hasta la fecha sigue incrementandose.
Este es su onceavo album, de 1963 titulado "Surfing", una gran disco de Surf Instro de una legendaria agrupación.
The Ventures / Surfing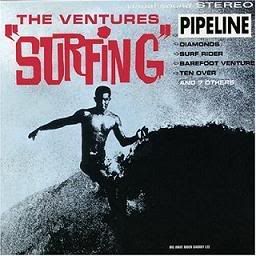 Tracklist.
1. Pipeline
2. Diamonds
3. Windy & Warm
4. Ten Over
5. Surf Rider
6. Changing Tides
7. The Ninth Wave
8. Party In Laguna
9. Barefoot Venture
10. The Heavies
11. Cruncher
12. The Lonely Sea