Entrega No 162.
De Alternarock.....??.
Ahora dejo algo de una banda originaria de Sacramento California, formados en 1991 y actualmente en actividad; ellos son
Cake
una agrupación surgida a pleno auge del denominado "sonido alternativo", son un quinteto que experimenta con buena cantidad de ritmos que se conjugan para crear un muy buen sonido que los ha caracterizado en a lo largo de su aventura musical y cosechando buena cantidad de exitos.
Este es su tercero y muy buen album, "Prolonging The Magic", un disco bastante aceptable del cual se desprende su genial tema "Never There".
Cake / Prolonging The Magic ( 1998 Volcano)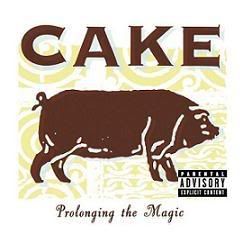 Tracklist.
1. Satan Is My Motor
2. Mexico
3. Never There
4. Guitar
5. You Turn The Screws
6. Walk On By
7. Sheep Go To Heaven
8. When You Sleep
9. Hem Of Your Garment
10. Alpha Beta Parking Lot
11. Let Me Go
12. Cool Blue Reason
13. Where Would I Be?