Entrega No 179.
Estan Listos ???? !!!.
Chernobillies
cuarteto formado en el 2001 en la ciudad de Curitiba, Brasil representante de la escena Psychobilly Sudamericana, con buen sonido, de buenas hechuras y con una fuerte dósis de horror característico del género. Un solo demo ha editado esta banda de el 2004 "Are You To Ready To Rock?", 10 buenos temas de terrorífico psychobilly.
Chernobillies / Are You Ready To Rock? ( 2004 To Records)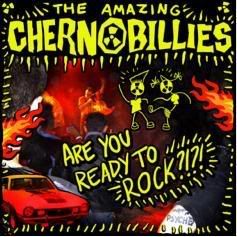 Tracklist.
1 El retorno de los chernobillies
2 A ultima puta do mundo
3 Cerveja cerveja
4 Maverick GT
5 Black Cat Jack
6 Mortos Vivos Mutantes
7 O filho do diabo
8 Acho que ela quer
9 Coffin Surfers
10 Virgem Maria