Entrega No 165.
De Surf Instro !!!!.
Y esta vez se trata de una banda originaria de Sisak, en la República de Croacia, formada en 1995; son un cuarteto (guitarras, bajo y batería) nombrado
The Bambi Molesters
, una buena banda de Surf Instrumental con una dosis de Garage y una fuerte influencia del estílo de los 60's, un sonido bastante bien logrado.
Este es su 6to album " Sonic Bullets:13 From The Hip" editado en el 2003 un muy buen disco donde el dialogo armonioso de las guitarras suenan a ritmo de buen Surf.
The Bambi Molester / Sonic Bullets: 13 From The Hip ( 2001 Big Beat Uk).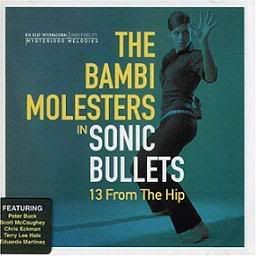 Tracklist.
1. Theme From Slaying Beauty
2. Malaguena
3. Corazon Del Loco Jorge
4. Ice And Pinewood Trees
5. Last Ride
6. Bubble Bath
7. Bombora
8. Tremble & Shake
9. Baia
10. Farewell Malasana
11. Final Wave For The Day
12. Double Danger
13. Chaotica