Entrega No 290.
60's , 70's & Punk Rock ......................
Una banda Californiana formada en 1995 con la intención de realizar versiones a temas de la decada de los 60's y 70's, Mike Fat (NoFX), Spike Slawson (Swingin' Utters), Chris Shiflett (Foo Fighters), Joey Cape y Dave Raun (Lagwagon) experimentados músicos de la escena Punk dan vida a
Me First And The Gimme Gimmes
un divertido quinteto de buenas tablas y que se ha destacado por el efectivo sonido que emiten.
Este es su album debut, editado en 1997 "Have a Ball" 12 tracks de versiones a clásicos de gente como Elton John, Loggins and Messina, John Denver, Billy Joel, etc, interpretados a su estílo, bien rapiditos y guitarreros.
Mi First And The Gimme Gimmes / Have A Ball ( 1997 Fat Wreck Chords)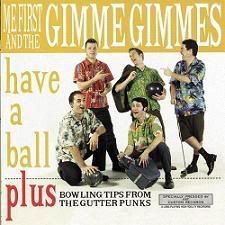 Tracklist.
1. Danny's Song
2. Leaving On A Jet Plane
3. Me & Julio Down By The Schoolyard
4. One Tin Soldier
5. Uptown Girl
6. I Am A Rock
7. Sweet Caroline
8. Seasons In The Sun
9. Fire And Rain
10. Nobody Does It Better
11. Mandy
12. Rocket Man