Entrega No 295.
Algo de sonido que remonta al estílo clásico del Surf, Rock N´Roll, Western, Exótica Instrumental es lo que no presenta esta banda Norteamericana surgida en Illinois con tendencia hacia el Horror, las series B y la Ciencia Ficción ellos son
The Moon-Rays
en un principio realizaban temas de artistas como Henry Mancini o John Barry 7 que fueron grabadas en su primer album, posteriormente editaron versiones de propia autoría.
"The Ghouls Go West", segundo album editado en el 2004, un muy buen album cargado ese ambiente tétrico que esta banda imprime a su música.
The Moon-Rays / The Ghouls Go West ( 2004 Sound Imp)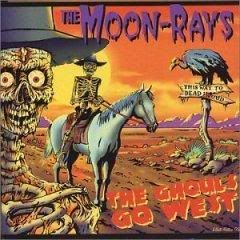 Tracklist.
1. Fear
2. Blues For Vampira
3. The Ghouls Go West
4. The Grim Creeper
5. Dragula Go-Go!
6. Thrillville
7. Little Green Men
8. Dark Shadows (Exotique)
9. El Toro Gano
10. The Hanging Tree
11. La Valse Du Vampir