Entrega No 291.
De Psychobilly........................
Más copetes, horror y contrabajos aceitosos en este Siniestro sitio, más Psychobilly y ahora con una banda Norteamericana formada en 1997 en Seattle;
The Spectres
agrupación que retoma el sonido clásico del Rock N' Roll de los 50's incorporando un ambiente tétrico y un sonido más revolucionado además de una dósis de humor negro.
Este es su segundo album, editado en el 2000 bajo el sello Crazy Love "Blood Sweat & Nitro" un buen album con 13 tracks de buenas hechuras.
The Spectres / Blood Sweat & Nitro (2000 Crazy Love)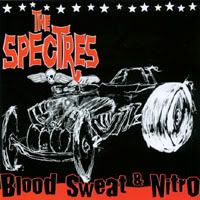 Tracklist.
1 Hell-Bent
2 '57 Deathtrip
3 Pick Your Poison
4 Dragstrip Demon
5 Voodoo Doll
6 Mad Machine
7 Daddy's Goin' Crazy
8 Neck Romantic
9 Bloodsuckin' Cowboy
10 From Beyond
11 Blood Sweat & Nitro
12 Did It For Elvis
13 Just Enough Rope