Entrega No 287.
Rock N' Roll!!!!!!!!!!!!.
Ahora va algo de una agrupación originaria de Brooklyn, New York formada en 1984. Ellos son
The A-Bones
una destacadísima banda de la escena Rock N' Roll Garage revival Norteamericana, curiosamente se separan en 1994 y retornan nuevamente a los escenarios diez años después, experimentados músicos conforman esta agrupación, entre ellos la baterista Miriam Linna que presumiblemente fué la primer baterísta de The Cramps la madurez musical se refleja claramente en su sonido. Esta es la última grabación de la banda, gran album titulado "Crash the Party".
The A-Bones / Crash The Party ( 1996 Norton Records).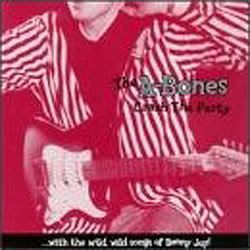 Tracklist.
1. Rollin' To The Jukebox Rock
2. Wild Wild Lover
3. Money Money
4. She Cried For Me
5. Ittie Bittie Everything
6. Gossip Gossip Gossip
7. I'm Doubtful Of Your Love
8. Button Nose-Live Version
9. The Star Of The Show
10. Steady With Betty
11. Crash The Party
12. Knock Three Times
13. Bundle Of Love
14. Hey High School Baby
15. Call The Zoo
16. Spin The Bottle
17. I'm Gonna Move
18. Come Back
19. Button Nose-Studio Version