Entrega No 14.
Comienza la Morriseymania!!!!!!!!!!!!!!!!!!.
Bueno comenzamos la semana y por fín me voy a dar el lujo de ir a escuchar a uno de mis artistas favoritos!!. Morrisey se presenta el 17 de Noviembre en la ciudad de México, y yo ya tengo muchisimas ganas de estar ahí!!.
Acá dejo un "aperitivo" de lo que seguramente sonará ese día, un disco recopilatorio de Hits, a mi me gusta todo lo que The Smiths y Morrisey solista hacen, pero pues ya saben, siempre hay canciones que destacan más que otras.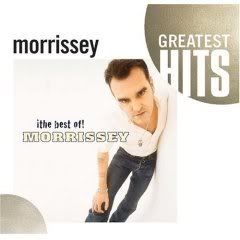 Tracklist.
1. The More You Ignore Me, The Closer I Get
2. Suedehead
3. Everyday Is Like Sunday
4. Glamorous Glue
5. Do Yur Best And Don't Worry
6. November Spawned A Monster
7. The Last Of The Famous International Playboys
8. Sing Your Life
9. Hairdresser On Fire
10. Interesting Drug
11. We Hate It When Our Friends Become Successful
12. Certain People I Know
13. Now My Heart Is Full
14. I Know It's Gonna Happen Someday
15. Sunny
16. Alma Matters
17. Hold On To Your Friends
18. Sister I'm A Poet
19. Lost
20. Tomorrow
21. Disappointed
Escuchalo.
http://www.badongo.com/file/1612171
* Agradeciendo al buen carnal The last Angel, que lo subió al foro de canciones para llevar, si no conocen ese blog, entrenlé esta bueno!.