Entrega No 12.
Oscuridad y energía.... The Sisters Of Mercy.
En esta ocación dejo el primer disco de una de las bandas más representativas del movimiento "gótico"; De el sello Elektra/ Asylum Records (subsello de WEA), The Sisters of Mercy "First And Last And Always" (1985).
Album que, como lo nombro en el encabezado, sus sonido base de rock, complementado con bajeos poderosos, guitarras melódicas, un teclado "admosfera", una voz muy grave y potente y una caja de ritmos, hacen de este un gran, gran disco. Y pues solo queda checar lo que esta agrupación inglesa formada por Andrew Eldritch (voz), Craig Adams (Bajo), Wayne Hussey y Gary Marx ( guitarra y teclados), y el Dr. Avalanch (como nombraron a la caja de ritmos), logran crear cuando pretendieron hacer este disco.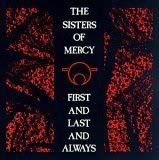 Tracklist.
1. Black planet.
2. Walk Away.
3. No Time To Cry.
4. A Rock And A Hard Place.
5. Marian.
6. First And Last And Always.
7. Possession.
8. Nine While Nine.
9. Logic.
10. Some Kinds Of Stranger.
Escuchalo!.
http://www.badongo.com/file/1650078