Entrega No 307.
Algo de Bad......................
Y se trata de album "
The Process of Belief "
album número12 de la discografía de esta grán banda Californiana editado en el 2002 bajo el sello Epitaph, este disco es especial pues llega con el regreso del guitarrista Brett Gurewitz a la alineación. El característico y potente estílo que define a Bad Religion, con ese sonido maduro que dan los años, 14 tracks en este muy buen disco!.
Bad Religion /
The Process of Belief (2002 Epitaph)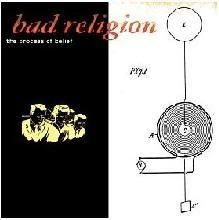 Tracklist.
1. Supersonic
2. Prove It
3. Can't Stop It
4. Broken
5. Destined for Nothing
6. Materialist
7. Kyoto Now!
8. Sorrow
9. Epiphany
10. Evangeline
11. The Defense
12. The Lie
13. You Don't Belong
14. Bored and Extremely Dangerous