Entrega No 302.
Ahora algo de los de Tucson Arizona
Supersuckers
, banda formada en 1997 que gusta de hacer una mezcla de estílos tomando como base el R N' R e incorporando algo de Punk, Country (el cual ejecutan con bastante regularidad) o Grunge un sonido sólido y bien elaborado, de buenas tablas que recuerda a bandas como los grandes Social Distortion es los que hacen estos Cowboys de largas cabelleras. Motherfuckers Be Trippin' es es título de este buen album editado en el 2003.
Supersuckers / Motherfuckers Be Trippin' ( 2003 Mid Fi Recordings)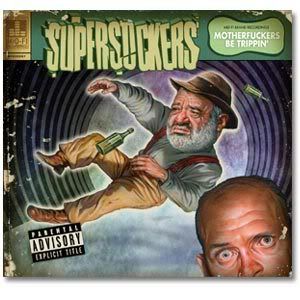 Tracklist.
1. Rock-N-Roll Records (Ain't Selling This Year)
2. Rock Your Ass
3. Pretty Fucked Up
4. The Fight Song
5. Bruises To Prove It
6. Bubblegum And Beer
7. Sleepy Vampire
8. A Good Night For My Drinkin'
9. Damn My Soul
10. Someday I Will Kill You
11. The Nowhere Special
12. Goodbye