Entrega No 305.
Sonido Instrumental.....................
Algo de lo solicitado a este Siniestro sitio situandose en 1989 en San Francisco California surge este trío llamado
The Mermen
para hacer de las suyas con un estílo Surf Instro influenciado por las bandas clásicas de los 60's buen rifff y base sólida.
Este es un album en vivo editado en 1999 una muy buen album que refleja la sutileza e imaginación de este conjunto
The Mermen / Sunken Treasure ( 1999 Kelptone)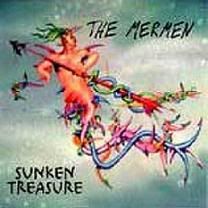 Tracklist.
1. Pulpin' Line
2. With No Definite Future and No Purpose Other Than to Prevail Somehow...
3. Scalp Salad
4. Curve
5. Joni Mitchell's House
6. Varykino Snow
7. Silly Elephant Who Stomped to Tea
8. Blue Xoam
9. Latin'ia
10. Casbah
11. Dancing in Her Sleep
12. Drub