Entrega No 280.
Punk Fémino.....................
Va otro album de las originarias de Albuquerque
The Eyeliners
, ahora con su album de el 2001 titulado "Sealed With a Kiss", un buen album con 12 tracks de ese Punk Rock sencillo y efectivo al que nos tienen acostumbrado este trío de féminas, creo que es de los mejores albums de esta agrupación, al ménos este siniestro servidos los disfruta mucho.
The Eyeliniers / Sealed With a Kiss ( 2001 Panic Button)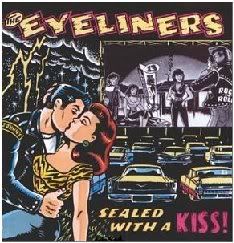 Tracklist.
1. Sealed With A Kiss
2. Play It Again
3. It Could Have Been You
4. Too Good To Be True
5. I Could Never Hate You
6. Bad Luck Charm
7. Something To Say
8. When Will I See You Again?
9. Wishing On A Star
10. I'd Do It All Over Again
11. Everything's Alright
12. Finished With You