Entrega No 272.

Un Compilado................

Punk A Billy, Punk Rock, Psychobilly se combinan en este buen disco titulado "Bound for the Bar" editado en el 2007 por el sello People Like You 13 bandas, 13 temas bastante bien seleccionados, un album recopilatorio con mucha fuerza.

V. A / Bound for the Bar ( 2007 People Like You)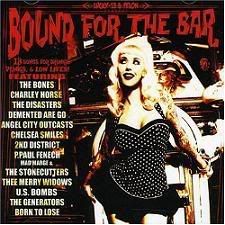 Tracklist.
1. I Wanna Be Sedated /
The Bones
2. Raining Ashes /
The Generators
3. Down Spiral /
Angel City Outcasts
4. My Riot /
Roger Miret And The Disasters
5. Eastbound And Down /
Charley Horse
6. Sweet Misery /
Born To Lose
7. Destruction Boy /
Demented Are Go
8. High Society /
2nd District
9. Heart Break Motel /
U.S. Bombs
10. Heart Attack /
The Chelsea Smiles
11. The F. Word /
P. Paul Fenech
12. Ode To The Devil /
Mad Marge & The Stonecutter
13. Talk Shit, Spit Blood /
Thee Merry Widows