Entrega No 83.
De Lo Legendario!!!.
Y ahora viene una agrupación clásica y referente obligado en la historia musical específicamente del Rock N' Roll. Surgidos en Minneapolis en el año de 1962, integrado por 4 sujetos; Tony Andreason en la guitarra lider y voz, Dal Wilson guitarra y voz, Bob Reed en el Bajo y Steve Wahrer batería, su nombre:
The Trashmen
.
Su sonido, un Rock n' Roll - Surf - Garage; sucio y crudo con esa guitarra punzante y tambores aguerridos que las bandas de Surf instrumental manejan, voz raspante y salvaje, aunque también tienen temas más armoniosos, algunas veces letras en sus canciones, otras solo la instrumentada.
Dejo una recopilación de estos "cavernarios envueltos en traje sastre" . Un grandioso disco que plasma la escencia de estos bien amados
The Trashmen
.
The Trashmen / The Tube City: The Best of The Trashmen (1992 Sundazed Records)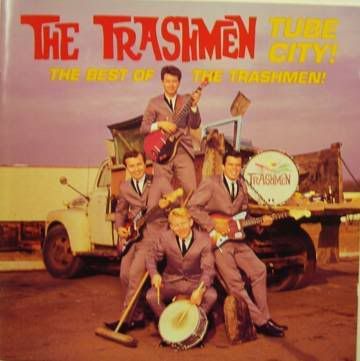 Tracklist.
1. Tube City
2. My Woodie
3. Surfin' Bird
4. Misirlou
5. Money
6. Kuk
7. King Of The Surf
8. Bird Bath
9. It's So Easy
10. Henrietta
11. Malaguena
12. Sleeper
13. Bird Dance Beat
14. A-Bone
15. Bad News
16. On The Move
17. Peppermint Man
18. New Generation
19. Whoa Dad!
Escúchalo!
http://sharebee.com/86400b7a