Entrega No 371.
Dificil memorizar en que se quedaron las entregas de este olvidado y siniestro sitio, apenas pude pasar entre tantas telarañas y olor a humedad de esta desolada página, veo con tristeza que a muchos amigos bloggers les están cerrando sus sitios y este....... olvidado e infestado de" spam asiático" que han tenido a bien dejar quien sabe quien porque no entiendo nada, tal vez sea la hora de limpiar la casa...... tal vez sea tiempo de regresar el ruido hasta que vengan y cierren este blog también.
Pero mientras eso sucede, me voy a permitir retomar la actividad y darle vida a este Siniestro y Gris Blog....................
Y paradojicamante al igual que este Sitio va algo relativo a los "Muertos Vivientes", y se trata de una proyecto dió a luz por ahí del 2006 diseñado para hacer una parodia al llamado "Cuarteto Liverpool", The Beatles. Un cuarteto de "No Muertos" llamados
The ZomBeatles
quien cuando no buscan alimentarse de cerebros son la banda de Madison, Wisconsin The Gomers.
Muy divertido y bizarro una muy buena idea, plasmada en su album editado en 2009 "Meat The Zombeatles"
,
versiones de los temas de The Beatles adaptadas de singular manera, tremendo!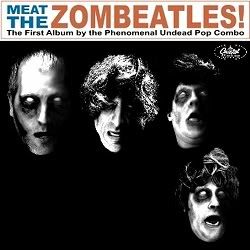 Tracklist.
1. Halp!
2. Ate Brains A Week
3. Brain
4. I Wanna Eat Your Hand
5. She Dead (
6. I'm Eating Through You
7. Dead Prudence
8. Hey Food