Entrega No 356.
Ahora va algo que tenía pendiente como petición a este Siniestro Sitio, y se trata de algo de una banda Escocesa de perteneciente a la etápa denominada Post Punk, o New Wave de finales de los 70's,
The Revillos
, que son la secuela de la clás sica banda Pop Punk
The Rezillos
, manteniendo un estílo guitarrero, sencillo, ligero y extravagante.
Una buena cantidad de buenos temas se recopilan en este album, editado en 1995, 17 cortes de lo mejor de esta banda.
The Revillos / Attack of the Giant Revillos ( 1995 Captaion Oi!)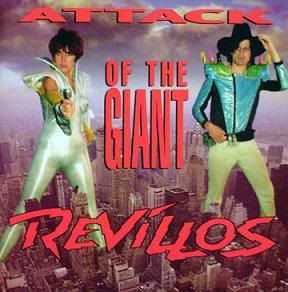 Tracklist.
1. Mind Bending Cutie Doll
2. Caveman Raveman
3. Do The Mutilation
4. Bitten By The Lovebug
5. Hip City, You Were Meant For Me
6. Sputnik Kids
7. She's Fallen In Love With The Monster Man
8. Man Attack
9. Bongo Brain
10. Midnight
11. Man Hunt
12. Tell Him
13. Snatzomobile
14. Mad From Birth To Death
15. Grave Groove
16. Your Baby's Gone
17. Santa Claus Is Coming To Town