Entrega No 263.
Pop Punk............................
Va algo de un trío formado en 1989 en la localidad de Sacramento California;
Groovie Ghoulies
una banda más de la escuela Ramonera; Punk Rock báse, algo de Pop, inspirado y con temática del Horror y Ciencia Ficción de los cuales esta banda es seguidora.
Este es su 7mo album, editado inicialmente en el 2002 por el sello Stardumb y posterioermente re-editado por el sello Green Door en el cual actualmente forman parte de su catálogo.
Groovie Ghoulies / Go Stories! (2005 Green Door).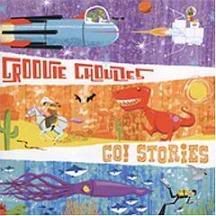 Tracklist.
1. Let's Do It Again
2. Mess Me Up
3. School Is In
4. Chupacabras
5. (And) I Don't Wanna Be Like That
6. Ratrace
7. Ghoulies Are Go!
8. Stick It Out
9. Doin' Fine
10. Are You Passionate?
11. Til Death Do Us Party
12. Kick Ass
13. Someone Is Always Not Happy
14. The Bay Bridge Club
15. (She's My) Vampire Girl
16. Normal (Is A Million Miles Away)