Entrega No 260.
Más Riot Grrrl!!.
Y ahora se trata de
Lunachicks
, agrupación de féminas formadas en 1987 en New York y disueltas en el 2000 con su estílo que coquetea entre el Punk Rock y el Heavy Metal, y su apariencia desenfadada estas chicas son una de las bandas destacadas de este movimiento.
Este es su tercer album, de 1995 "Jerk Of All Trades", buen album de estas salvajes féminas.
L
unachicks
/ Jerk Of All Trades(1995 Go Kart Records)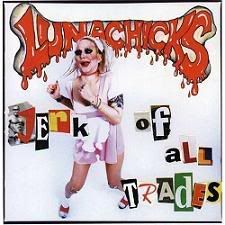 Tracklist.
1. Fingerful
2. F.D.S. (Shit Finger Dick)
3. Light As A Feather
4. Edgar
5. Dog Yard
6. Butt Plugg
7. Bitterness Barbie
8. Deal With It
9. Brickface + Stucco
10. Jerk Of All Trades
11. Spoilt
12. Ring + Run
13. Fallopian Rhapsody
14. Insomnia
15. Why Me
16. Ring + Run