Entrega No 255.
Siguiendo en la línea..........
De
Social Distortion
, ahora va el turno en solitario a
Mike Ness
en donde realíza una retrospectiva a sus influencias y decide grabar algunas versiones de temas de leyendas del country y del rockabilly, el resultado es un album titulado "Under The Influence", un muy buen trabajo con toda la escencia y estílo de Ness.
Mike Ness / Under The Influence ( 1999 Time Bomb Records).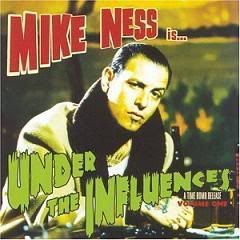 Tracklist.
1. All I Can Do Is Cry
2. Gamblin' Man
3. Let The Jukebox Keep On Playing
4. I Fought The Law
5. Big Iron
6. One More Time
7. Six More Miles
8. A Thief In The Night
9. Once A Day
10. Funnel Of Love
11. House Of Gold
12. Wildwood Flower
13. Ball And Chain (Honky Tonk)