Entrega No 247
Hula-Hula Surf!!!!!.
Directamente desde Jawaii* llega esta buena agrupación con una interesante propuesta. Ellos son
Tiki Tiki Bamboooos
un par de músicos Japoneses Miyaji-TiKi (guitarra) y Polly-BAMboooos (bajo) complementados por un Alemán Manu-Tiki (batería). Radican en Alemanía y con un par de albums han logrado consolidarse en la escena Europea, una mezcla entre el Surf, Exótica, RN'R 60's con un toque de la cultura Tiki, con temas Instrumentales y algunos con voz es el sello de este trío de isleños.
Esta es su primer trabajo, de título homónimo y editado por el sello Kamikaze Records, un muy buen disco a lo largo de sus 16 temas.
*Jawaii es una isla fictícia localizada entre Hawaii y Japón.
Tiki Tiki Bamboooos / The Tiki Tiki Bamboooos ( 2000 Kamikaze Records)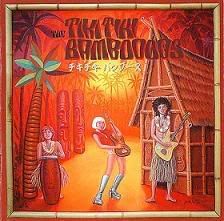 Tracklist.
1. Into China
2. Shark Next Door
3. Exotica
4. Night Of The Tiki
5. Converse
6. Go Tiki Go!!
7. Everybody Says
8. Bamboo Beach
9. Jumping Hula Flash
10. U-Ha
11. Stop And Go
12. Born To Love You
13. Tsunami Rolls
14. Yeah From Miyaji
15. Misalu
16. Iloha