Entrega No 233.
Psychobilly / Rockabilly
Con una banda considerada pionera en la escena Psychobilly-Neo Rockabilly Alemana, formados en 1985 en Berlin,
Sunny Domestozs
logra consolidarse por el estílo que manejan en su sonido incorporando algo de Surf y Punk, comenzando sonar por diversos lugares de Europa, cambios de alineación y en 1990 la banda desaparece de la escena hasta el 2006 año en el que retoman su aventura musical.
Este es su primer trabajo, de 1985 "Barkin' At The Moon", un exitoso album que incluye varias versiones de temas clásicos interpretados al estílo de la banda, editado de manera independiente y con un reducido tiraje.
Sunny Domestozs / Barkin' At The Moon (1985 Drinkin 'Lonesome Records)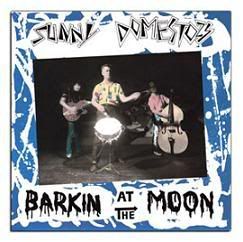 Tracklist.
01.Run
02.Captain Cosmo
03.Pay The Bill
04.Anarchy In The U.K.
05.Sadist
06.Surfin' Vampire
07.Barkin' At The Moon
08.Squashy Lump
09.No On Sees Me Now
10.Surfside Date
11.Monsters Of The Night
12.These Boot Are Made For Walking