Entrega No 339.
Más Punk Rock, Pop Punk , ahora con algo de
The Leftovers
, banda originaria de Portland formada en el 2002 de sonido guitarrero con influencia de bandas como Screeching Weasel, The Queers y obviamente de RAMONES, tres discos editados y bastante actividad.
Este es su segundo trabajo, del año 2006 Party Tonight!, disquito que se va rápido, nueve temas de corta duración.
The Leftovers / Party Tonight! ( 2006 Cheapskate Records).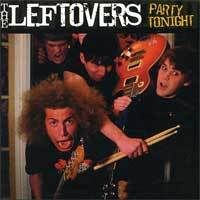 Tracklist.
1 Crazy
2 She Doesn't Like Me Anymore
3 Mouth To Mouth
4 HypnotizedClick to listen to this song
5 Guessage
6 Adding Up
7 Dance
8 I Don't Really Love You
9 Life And Death (of The Party)